Vivienne Orchard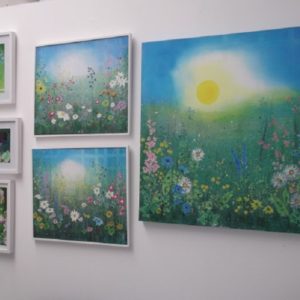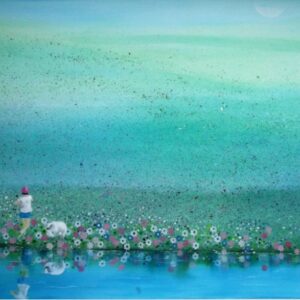 Vivienne Orchard uses an eclectic mix of genres in her artwork to include seascapes, landscapes, villages, silhouettes, abstracts and  graphic designs.
She has had exhibitions in Spain, St Ives, Falmouth and Redruth and has a studio at Krowji Creative Space in Redruth.
"A deserted beach, an enchanted wood, a lonely moor, ancient fishing ports, dramatic cliffs and sheltered valleys – who would not be inspired by the natural beauty of Cornwall? I like the idea that the viewer can imagine themselves walking through a landscape devoid of any other person. I am interested in interior design and the need for artwork to naturally integrate with its surroundings. Colour, form and texture in terms of rough and smooth painting techniques and the unique presentation of a scene set in a summer evening, or in a cloudless sky, or in a foggy dawn provide my inspiration. The translucent light and dream-like qualities of  Cornwall are unique."
Vivienne uses oils, acrylics, recycled glass and mixed media to form her artwork. Framed and unframed artworks range in price from £15- £250.